DAP 21-53-0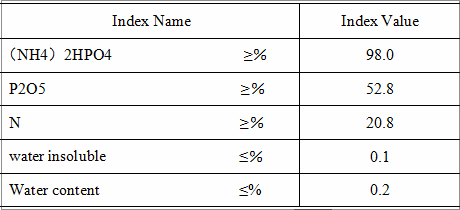 DAP 18-46-0
| | |
| --- | --- |
| Indexes | Results |
| Total N+P205 %MIN | 64.0 |
| Available P2O5 %MIN | 46.0 |
| Total N %MIN | 18.0 |
| Water soluable to available P205 %MIN | 90.0 |
| Moisture %MAX | 2.0 |
| Particle Size(1-4mm) %MIN | 90.0 |
Note of Diammonium Phosphate Fertilizer DAP

1.Usage: It can be used for nitrogen and phosphorous suply to all kinds of plants especially in the regions with less rain. It is the best base fertilizer for multi-element compound fertilizer and BB fertilizer production.
2.Notice: Do not to apply it directly to the seeds when using it as seed fertilizer and not too close to the seedings when as base fertilizer so as to prevent the seedings from beeing damaged by NH3 released.
Other Purposes of Diammonium Phosphate Fertilizer DAP
Used as fire retardant, fire-proofing agent, fire-proof agent additive for wood, paper, fabric, used in manufacturing late making, medicine and radio tube, also used in phosphorus, nitrogen high efficient compound fertilizer. Low arsenic grade is mainly used as nutrient.
Storage of Diammonium Phosphate Fertilizer DAP
To maintain the integrity of the packaging in delivery, store in cool and ventilated place, avoid touching acid or alkaline, keep away from fire.
If you want to know more details, please send an email to us to solidchemicals@aliyun.com .